We have developed a near perfect system for recoloring your carpet back to its original color, if you have accidentally spilled any chemical on your carpet which has taken the color out of the carpet resulting in a loss of color in one or more spots.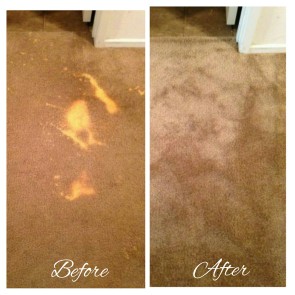 Call us today if you have a bleach stain in your home or business carpet, we guarantee to make it go-away or you don't pay!!!
Dyeing discolorations with colors similar to the carpet color will result in a wrong shade or color. Most discolorations are partial and contain some color. Adding colors that are similar with the same carpet color will blend with the remaining color and not match. Our system will replace only the missing colors.
The result is a near perfect match. The most accurate and correct method available. If you have made the mistake in dyeing your bleach stains with colors similar to your carpet and the color match is off, we can help in removing this dye and getting the correct shade and color. With this system there is less of a chance in getting the wrong shade or color.
At any step in the procedure the outcome is always closer to the original color. Call to ask about details. The photos above are Actual before and after photos of customers after our using our bleach spot removal system.