Featured Cleaning Services
Carpet Cleaning
Bradenton, Sarasota, St Petersburg FL
Heaven's Best Carpet Cleaning Bradenton FL, Sarasota, and St Petersburg FL offers carpet cleaning, rug cleaning, upholstery cleaning, and more! Our carpet cleaners give you the best value and we are confident that Heaven's Best is the only carpet cleaning company you need. Call to talk to your local carpet cleaning technician to find out which cleaning service is best for you. They can answer your questions and schedule an appointment.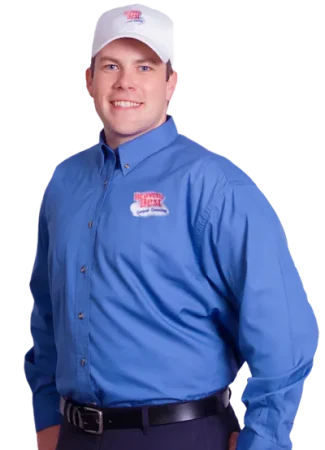 Meet Bob DeMartino, your local Heaven's Best Owner
Walking on the carpet crushes the pollutants deep into carpet fibers which makes them unreachable by vacuums and often overlooked by the average cleaning service. If left untreated, the small particles attract Dust Mites which are microscopic bugs that leave behind daily waste and feces of up to 200 times their body weight. Even though the original pollutants are embedded tight in the fibers of your carpet, body parts and "left overs" from the dust mites can easily be inhaled when the area is disturbed.
A carpet that is meant to be a comfortable place to lay down with a blanket and pillow to watch a movie, or where a baby learns to walk or crawl. Instead it is often a source of hidden "creepy crawlies" and unsuspecting ailments. Without getting rid of these common critters AND their "left overs" you may be leaving your family subject to airborne illness, skin irritations and sinus irritations that contribute to sneezing, snoring and asthma. Plus you'll have a carpet that seems to never get clean.
But you can have a clean, comfortable carpet that looks like new, smells great, is easy to maintain and is safe. Our professionals remove pollutants deep within your carpet. Here are a few things you can do to keep your carpet cleaner.
The first step is to vacuum your carpet at least once a week before the pollutants have a chance to embed in your carpet. If kids or pets are present in the house then carpeted areas may need to be tended to multiple times a week. To prevent rapid dirt accumulation, have house guests remove shoes before entering the home.
Use a vacuum with a HEPA filter to eliminate putting unnecessary allergens and pollutants into the air.
Vacuuming will never get everything so it takes a skilled technician and a powerful cleaning machine to purposely kill microscopic, un-welcomed guests without damaging your carpet. Our skilled technicians are trained for this and we use the top of the line cleaning machines specifically for this reason. You can be ensured that we will remove deep rooted dirt, pollutants, allergens, dust mites and their by-products. Your carpets will get a care they require so you can breathe better and so you and your family can enjoy the comfort of a carpet that both looks like new and is safe.
Other Important Services we specialize in
24 hour emergency water removal "IICRC" Certified

State licensed mold inspectors & remediators
When you schedule your carpet cleaning, rug cleaning, or upholstery cleaning with us, we give you a quote up front. We tell you, the exact time we expect to arrive, and the amount of time we expect the job to take. Upon arrival our clean-cut, uniformed technicians will walk with you and review all spots, stains, and areas of concern that require extra attention. We listen to you let you know what results to expect. Before we start we review with you the exact price for the job. With Heaven's Best Carpet Cleaning Company, you can expect great quality and value.
Dry in one hour!
Safe for Pets and Children
Eco-friendly
Best smelling results in the country
Professional results
Common Questions About Carpet, Tile & Upholstery Cleaning:
How much does it cost to have my carpet professionally cleaned?
We will quote you a firm estimate over the phone, or when our technicians arrive on the  premises before we start the cleaning process. Our prices are based on square footage  and condition of carpet. Standard carpet cleaning starts at $.24 a square foot. Additional  services are offered for heavily soiled areas, pet urine odor, & repairs. All local  appointments come with a free in-home, no obligation estimate. The technician will  measure wall-to-wall & quote you an exact price for your cleaning needs. The  appointment will include time for cleaning if approved and desired.
What is Heaven's Best's service area?  
Our service areas are Anna Maria Island, Bradenton, Bradenton Beach, Ellenton, Holmes  Beach, Lakewood Ranch, Longboat Key, Palmetto, Parish, Sarasota, Siesta Key and all  Surrounding Areas. The appointment time is sometimes subject to change due to  location. One of the Heaven's Best of Sarasota's team members will give you a call to  arrange your cleaning should you schedule an appointment out of our service area.
What cleaning method do you use?  
Heaven's Best of Sarasota uses both a low moisture buffer cleaning method if you prefer  to shorten the drying time or hot water extraction also known as steam cleaning. We are  powered by Hydra Master, a truck-mounted carpet cleaning system. This equipment uses  a combination of hot water, high pressure, and a powerful vacuum to remove dirt &
harmful pollutants from your carpet. Then we deodorize to make your carpet fresh and  clean. Cleaning is done by professionals certified by the IICRC. Most manufacturer's  warranties required this method of cleaning to keep in good standing.
How long will it take my carpet to dry?  
Carpet usually takes between 4–12 hours to dry. When we leave, your carpets will be  slightly damp to the touch. Effects on drying time include: weather, relative humidity  levels and type and condition of carpet. On a wet or cold day, it will take longer to dry. To decrease drying time, keep the temperature at a comfortable level, use a fan and on a  nice day opening up the house; leaving your house closed up will extend drying time. If  we use the Low Moisture system, the drying time is decreased to about 1 hour.
Why is a truck-mounted steam cleaning better than a rental or home-unit?
For emergency spot removal and maintenance, a rental cleaner can be useful, however, it will not replace the deep clean provided from a truck mounted system. Hot water  pressure and vacuum power provided from a truck mounted system provides a deeper  clean, sanitizing your carpet and killing the dust mites and bacteria. The equipment used  is well-maintained and cared for by trained technicians with no risk of damage to carpet,  over wetting or improper use of cleaning solutions that could result in re-soiling issues.  We use professional equipment with powerful suction and professional products used in  the right sequence to leave your carpets "PH" balanced so you won't have these issues
Should I vacuum before the cleaner arrives? 
Yes, you should vacuum your carpet at least once or twice a week. If you have pets or  children, you should vacuum more often. With our "standard service" a "pre-vac" is  included.
Will you move furniture? 
We clean open areas around your furniture with basic furniture moving, (i.e. small coffee  tables, chairs, ottomans) with our base price. If you prefer to have all furniture moved,  let us know, and we will provide a quote with this included as an additional service.  Please advise your carpet cleaning technician about any special request before they begin working. (Such as weak legs, loose tops, etc.) Note: Heaven's Best of Sarasota can't  move furnishings that are too heavy, awkward, costly, or delicate to move. (i.e. – china  cabinets and/or fine china, entertainment centers).
How long does it take to complete professional carpet cleaning?
The amount of time it takes for carpet cleaning depends on how dirty the carpets are,  how much furniture is to be moved, cleaned under, blocked or tabbed, and which services are being performed. The technicians can cover approximately 1000 square feet of carpet per hour.
Do you guarantee that all spots and stains will be removed? 
Unfortunately, no one can guarantee every stain will be removed. Our technicians will try  their best to remove every stain, but sometimes the stains will return. It may look like a  stain is gone, but then it wicks up from the bottom and reappears. Sometimes a spill is  caught between the carpet and the padding, and 2-3 hours after having the carpet  cleaned, it returns. Our team will gladly come back, free of charge, and retry to clean  the stain within 14 days of your service.
Will carpet cleaning remove fleas from my carpet? 
No, carpet cleaning is a good secondary measure after professional extermination of pest (i.e. fleas, bed bugs, roaches, etc.). We suggest having your home bombed and treated
both before having your carpets steam cleaned. The steam from the hot water  extraction will kill the eggs, but the living fleas will get away, and then return if you do  not have pest control professionals treat the house.
How soon can I walk on the carpeted floors after they have been cleaned?
You can walk on your carpet almost immediately after we leave as long as you are  wearing some sort of clean house shoes. Heavy foot traffic is suggested to be avoided  until your carpets are dry. The bottom of your feet could be slick, so caution is needed  when transitioning from damp carpet areas to any other surface.
What do I need to do before getting them cleaned? 
Generally, you should pick up loose items off the floor. Toys, books and breakables  should be put away. Relocate any small pieces of furniture such as dining room chairs,  magazine racks, etc. from the areas to be cleaned before we arrive.
Concerning Tile & Upholstery 
We will use air movers (Large Fans) to dry your floors & upholstery very quickly while we  are on the job. Otherwise our technicians will take care of any contingencies that may  arise. If you have any other questions, please do not hesitate to call our offices prior to  the cleaning.
Thank you for using our services, we will make your home our priority. What ever we can do to make this a positive experience, we will make it our mission surpass your  expectations.
Finding Heaven's Best Bradenton, Sarasota FL
Heaven's Best has been in the Carpet Cleaning, Tile Cleaning, Upholstery Cleaning and Area Rug Cleaning Industry for over 20 years.
We are considered the premier Cleaning Service Provider in Sarasota & Manatee Counties.
The Best Way to find us is to search Google for carpet cleaning near me, tile cleaning near me, upholstery cleaning near me, area rug cleaning near me or oriental rug cleaning near me. You can also search for professional rug cleaning, rug cleaning service, oriental rug cleaning, area rug cleaning drop off, drop off rug cleaning near me or wool rug cleaning. You can even find us under Area Rug Pickup and Delivery.
You might even search Google for clean rugs near me, Persian rug cleaners near me, clean carpet service, or cleaning carpet service near me. We even show up on Google Search under…best carpet cleaner, couch cleaner, Stanley Steemer near me, rug cleaning near me, rug cleaner, carpet cleaning services, and professional carpet cleaning.
When looking for our Upholstery Cleaning Division, we show up on a Google Search as upholstery cleaning near me, area rug cleaning near me, couch cleaning service, furniture cleaner, carpet shampooing and even carpet steaming.
Sandar ★★★★★

★★★★★

★★★★★

Thank You for the recognition of Client of the Month. I have always been very satisfied with your work. I appreciate your working my jobs in when I have an emergency. I'll enjoy the gift card at the Olive Garden. And raise a glass to your continued success.
Barbara ★★★★★

★★★★★

★★★★★

"We have used not only your carpet cleaning services many times, but also the Super Tile Cleaning Service and Have been very happy with your work ethic. We certainly will continue to use these services and recommend them you to our friends. Thanks again for your help!"That sounds pretty cool. I think I'll try that service out next.
Janet ★★★★★

★★★★★

★★★★★

"What a nice gesture to be chosen Client of The Month! It has been such a pleasure to work with you all of these years. I can always depend on high quality work and you have always responded to our emergency quickly. We appreciate all you have done for us. Our family will enjoy going to the Olive Garden with the gift certificate you sent us; and we Thank You again for making us feel special!"
Karen ★★★★★

★★★★★

★★★★★

"You have cleaned my carpet 4 or 5 times and your technicians have always been nice and did a good job. I've always been pleased. If I hadn't been pleased they would have only been here 1 Time. Your company was able to take the smell of dog urine out of the hall carpet. Thanks.
M Dickerson ★★★★★

★★★★★

★★★★★

"We have a sculpted carpet and you were able to get out a stain that would have otherwise necessitated replacement of an entire room's carpeting. Good to excellent general cleaning.
Kyle ★★★★★

★★★★★

★★★★★

"Carpet & Furniture looked great after cleaning. Felt they did a thorough job.
Heaven's Best Service Area